insurance for cars, motorbikes, company vehicles and home insurance
Welcome to Línea Directa. Find out the services and products of this market leader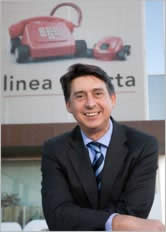 welcome
Línea Directa Aseguradora, a company 100% Bankinter, was set up in 1995. The aim was to provide excellent customer service at highly competitive prices. Since then over 1,850,000 customers have placed their trust in us. As pioneers in the commercialization of insurance by telephone and via the Internet, where we are still the market leaders, our philosophy is a commitment to constant innovation backed up by using the most technologically advanced tools available.
Today, we continue to offer innovative, personalised solutions designed to meet the needs of all our customers, with a continuous focus on an excellent, efficient service, combined with a human and personal touch.
With kind regards,
Miguel Ángel Merino
about our services >>
© 2012 Línea Directa Aseguradora, S.A.